Tae Kwon Do (1989 to Present)
Vision Martial Arts (Formerly America's Best Karate) CA
Head Instructor / Program Director for Vision Martial Arts of Silver Creek
Specialized in child social skill development and character building, aerial and acrobatic kicking combinations, blunt and sectional weaponry katas, and development of modern TKD competition style katas.
Previous Instructor at twelve other bay area locations.
Taught thousands of students from White to Black Belt.
Choreographed large group routines for local and national demonstration, in competitive forms, weaponry, self-defense, and mock fighting sets..
Capoeira (6 years)
Trained under one of the first teachers from Brazil to open a school on the West Coast (Mestrando Papiba).
Lived in Brazil for one month, training with the fathers of Capoeria, as a representative of an American Capoeirista.
Performed in multiple public demonstrations including the Palace of Fine Arts Gala, and a San Jose Clash Halftime show.
Reached the 5th rank before moving away from the Santa Cruz school, and was given the capoeira name: Maestro.
Gymnastics (6 years)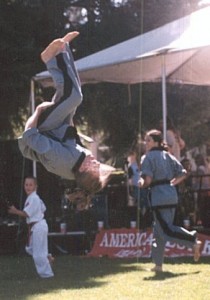 Tumbling skills include back and front flips, handsprings, butterflies, misty flips, and aerials.
Skilled in tumbling on trampoline, tumble tracks, crash mats, crash pits, and harnesses
Wushu (4 years)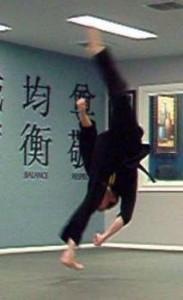 Two years of study under Eric Chen, owner of the National Wushu Training Center.
Long time student of Master Anthony Chan, the founder of America's Best Karate.
Extensive traning in a wide array of Chinese weaponry including Rope Dart and Steel Whip.
Fire Dance (4 years)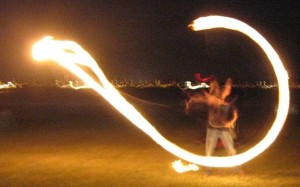 Choreographed and performed fire dancing routines at nightclubs in the Los Angeles and San Francisco areas, and at Burning Man.
Trained with the Los Angeles Fire Conclave in fire safety, multiple fire tools, and the organization of large scale performance art.
Main routines include fire-broadsword katas, chain and wire poi spinning, and unique fire-dart sets.
Motion Capture (2 years)
Performed the motion capture for walk and run cycles, jumps, crawls, aerial acrobatics, weapon movements, emotes, and all character taunts used in Unreal Tournament 2003 and 2004.
Recorded for Unreal Championship II, doing dynamic attacking and blocking combinations in multiple styles of martial arts, with over 20 different weapons, along with aerial stunts, environment traversal, taunts, and emotes with each style of weaponry.
UT2003 Credits: "Andrew LeMat, the man behind the Pelvic Thrust – for going above and beyond in the Mo-Cap Studio"
Kendo (1.5 years)
Trained in heavy sword fighting with full armor, in a Mountain View Japanese temple.
Currently own a full set of Kenjitsu armor, and multiple shinai swords.
Television (1 year)
Stand-in performer and stage hand for the children's TV show.
Performed in a segment as a park ranger, and occasionally performed aerial kicks as Kanga Roddy.